Model United Nations Experience Run
MUNER – New York is the largest and most prestigious international experience organized by United Network. In the Big Apple, a stone's throw from Times Square, together with more than 3000 students from all over the world you will participate in the annual meeting to compare your ideas and define new strategies for international politics. MUNER – New York takes you inside the most exciting simulation of the United Nations General Assembly taking place in New York: the Global Citizens Model United Nations (GCMUN).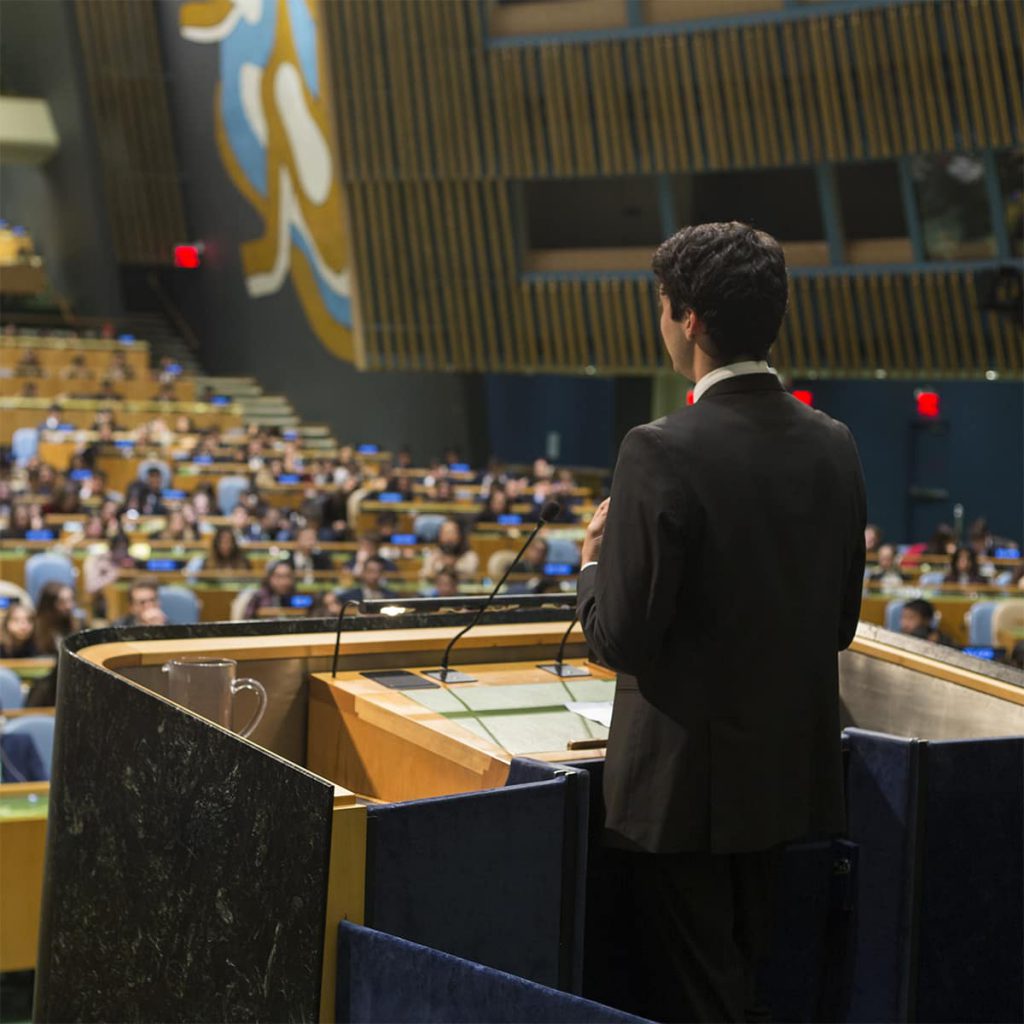 How it takes place MUNER NY?
During the model, you will be confronted in English with young people from other countries of the world, using the United Nations rules of procedure and addressing the same issues that real ambassadors discuss inside the Glass Palace every day. The simulation work will be coordinated by international staff from the most prestigious American universities (including Harvard University). In addition to living an intense training experience, during the simulation you will have the opportunity to meet the diplomats working in New York at the Permanent Representations (Mission Briefing), as well as to learn about the various professionals working in the Italian Consulate General in New York and the Italian Permanent Mission to the United Nations.

Francesca
@fra_virghi
Prima nella vicina Milano e poi oltre oceano, all'agognata e utopica Grande Mela, ho preso parte a due simulazioni di quel che avviene durante le commissioni tenute e coordinate dagli ambasciatori dell'ONU. Come un gioco di ruolo, IMUN e MUNER NY mi hanno dato l'opportunità di crescere, conoscere, imparare, stringere insolite amicizie, mettermi alla prova.

Alex
@alextuori
Una placard, un badge e tanta voglia di mettersi in gioco: inizia lo spettacolo. Il primo giorno del model, raggiungo la sala assegnata, quella della mia commissione, ECOFIN, mi guardo intorno; cerco sguardi amici, pur non conoscendo quasi nessuno degli altri delegates. Penso... "sono a New York". L'adrenalina attraversa ogni angolo del mio corpo, un'esperienza indimenticabile!
MUNER is
the lights of New York
Times Square traffic
an international experience
a comparison with students from all over the world
In order to get the most out of the simulation, you will participate in the Delegate Training Course in the months leading up to your departure. All our lessons are interactive and take place in English. Our instructors are native speakers of English and, thanks to their years of experience in the world of simulations, are ready to help you get in touch with the English used in the world of international diplomacy. The Delegate Training Course is divided into six modules, for a total of 70 hours. The preparatory lessons take place at one of our polo schools. Alternatively, you can take part in the course via e-learning on our website.
All students enrolled in Italian high schools can take part in MUNER NY.
You can enroll by clicking on this link. After registering, you will be asked to take an online eligibility test. Participation in the eligibility test is free of charge and carries no obligation. The result of the eligibility test will be communicated by e-mail to the address indicated. If you are admitted, you will be able to complete the enrollment process and proceed with the payment of the participation fee. Once you have passed the eligibility test and before completing the enrollment, parents can make an appointment with one of our representatives to receive clarification and information on how to carry out the project. Participation is by programmed number. If you do not complete the enrollment in the required time you will be placed on a waiting list.
The suitability test consists of an aptitude test and an oral part in English. Those who have a B2 level English certification (Cambridge: First; TOEFL: 46 – 93; IELTS: 5.0 – 6.5; Trinity: 7 – 9; BULLATS: 60 – 74) or higher (C1 or C2) are exempt from the oral interview in English. The aptitude test is however mandatory.
Costs to participate in MUNER NY are listed in the informational materials distributed at the schools. You can request more information by sending an email to info@unitednetwork.it or calling our office.
Each year United Network provides more than 100,000 euros in scholarships to support lower income people. To apply for a scholarship, sign up for the project and view the Financial Aid award announcement. You can make your final membership conditional on the award of a scholarship.
The Model United Nations Experience Run project is conducted in English.