Italian Model
United Nations
The Italian Model United Nations is the largest UN model in the world! You will represent a UN member country and will be required to faithfully respect its values and interests, using the UN rules of procedure. Your goal will be to confront, intervene, mediate a position and cooperate to obtain the approval of documents (the so-called resolutions) that can benefit your country. IMUN is a great cooperative experience, in which you will be confronted in English with the major issues of international politics.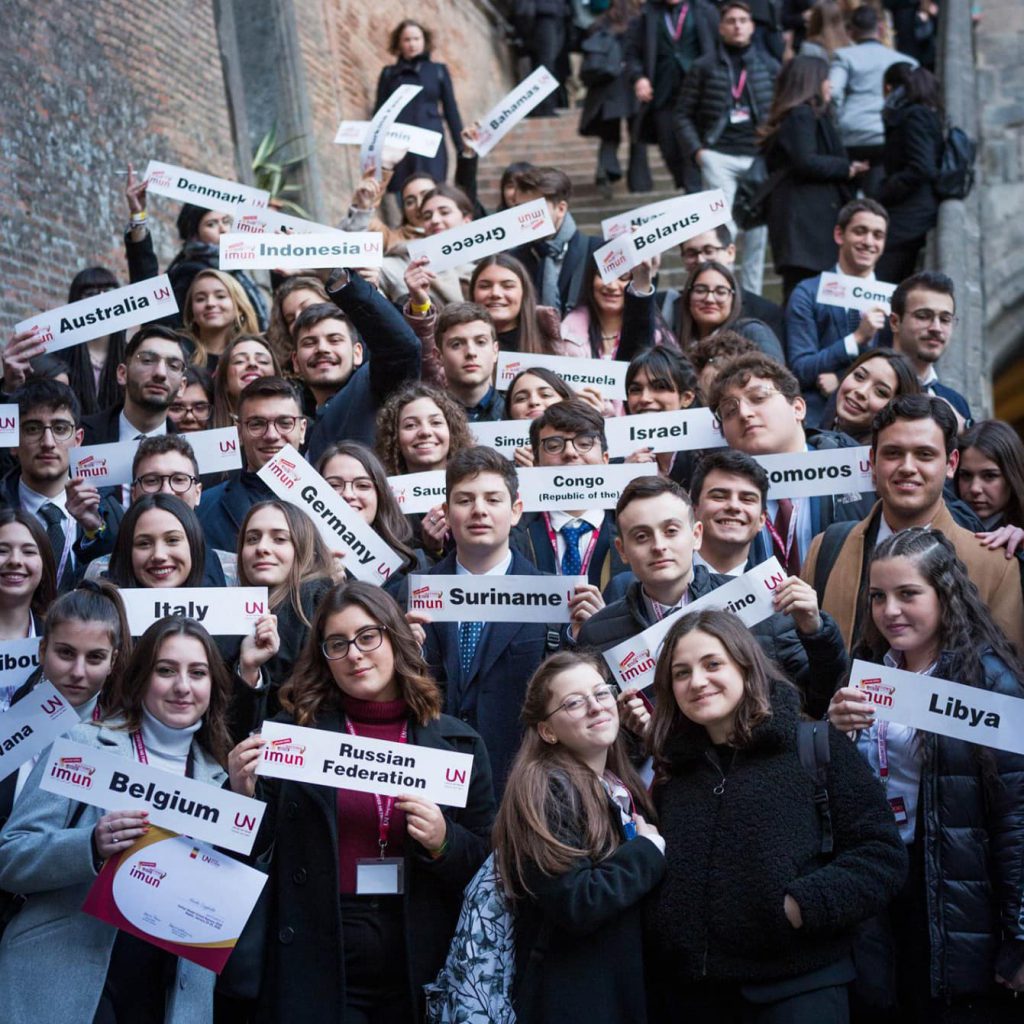 You will begin working within your assigned Committee, representing a UN member country. You will be coordinated by the United Network staff, composed of university students with years of experience in conducting simulations, always ready to help and encourage you. At the end of the three days, you will vote on the resolutions adopted by the different commissions in a large plenary session, attended by all the students who took part in the Italian Model United Nations. It is on this occasion that the most deserving students can win an honourable mention; and you could be the Best Delegate!

Sara
@sara.mrt_
Perché partecipare ad IMUN? Perché oltre alle amicizie che si sono creano, oltre ai director e ad uno staff brillante e qualificato, IMUN mi ha insegnato che ogni persona, ogni singolo Paese, ogni singola placard alzate può fare la differenza per cambiare il mondo.

Francesco
@im_fraa
IMUN ti insegna a cooperare, a scendere a compromessi. Ti consente di capire che anche quei problemi che apperentemente sono distanti, perché dall'altra parte del mondo o perché affliggono altre culture, sono nostri problemi: siamo cittadini del mondo e per questo dobbiamo proteggerlo, mettendoci in gioco in prima persona.

Cristina
@_crystark_
Perché partecipare ad IMUN? Perché ti fa capire che nonostante tutto, hai una voce (e che la voce dell'Angola conta quanto quella degli Stati Uniti). IMUN ti insegna a credere nelle tue idee, a perfezionarle e a difenderle, rispettando le idee degli altri, anche se diverse dalle nostre.
IMUN is
a unique experience
an international confrontation
a way of life
an innovative path
DISCOVER 2023-2024 EDITIONS
To best approach IMUN, you will participate in the Delegate Training Course in the months leading up to it. All of our classes are interactive and conducted in English. Our instructors are native English speakers, but thanks to their years of experience in the world of simulations, they are ready to introduce you gradually to the English used in the world of international diplomacy.
All students enrolled in Italian high schools can take part in IMUN. In order to participate in the simulation, no English language certificates are required and there is no need to pass an aptitude test. All students who want to test themselves and improve their level of English can take part. Students can register by the date indicated during the orientation meeting held at the school.
You can enroll by clicking on this link. Instructions for completing the registration will be sent to the student's contact email following registration.
You can request more information by sending an email to info@unitednetwork.it or by calling our office at +39 0692937028.
Each year United Network provides more than €100,000 in scholarships to support lower income earners. To apply for a scholarship, sign up for the project and follow the instructions provided in your reserved area. Final membership may be made contingent upon the award of a scholarship.
The Italian Model United Nations project is conducted in English.