Nous Les Européens is the only simulation of the European Parliament in French language that takes place in Italy. Now in its fourth edition, it is organized in partnership with the Institut Français of Naples. During the model, wearing a formal dress (jacket and tie for males and suit for females), you will confront in French with other students from other schools. You will pretend to be a member of the European Parliament and, using the rules of procedure of the Strasbourg Parliament, you will debate an issue that Europe has been dealing with in recent years.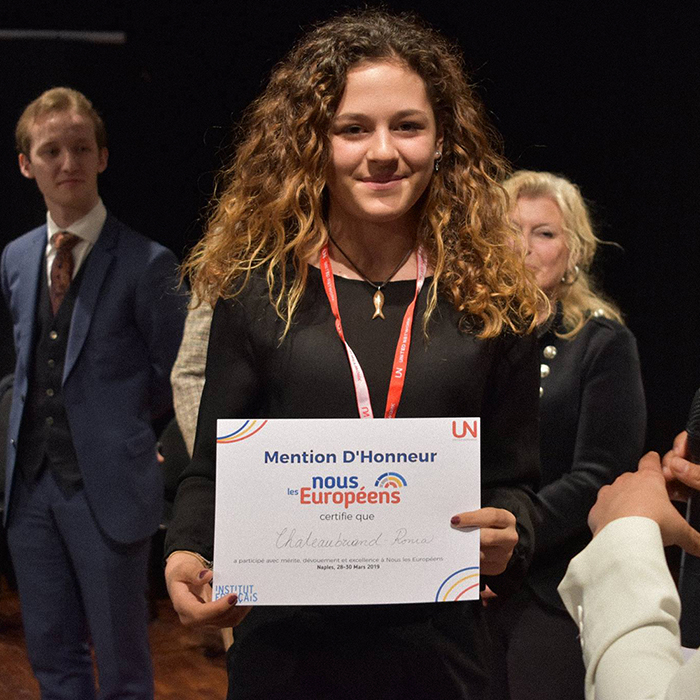 In order to best deal with the simulation, you will attend the Training Course in the previous months. All of our classes are interactive and conducted in French. Our instructors are native French speakers, but thanks to their years of experience in the world of simulations, they are ready to help you get in touch gradually with the French used in the world of international politics. The Training Course is divided into 4 modules, for a total of 70 hours. Each student will be assigned to a tutor, who will follow him/her during the individual study and the back office activity on Google Classroom
All students enrolled in Italian high schools can take part in NLE. In order to participate in the simulation, no French language certificates are required and there is no need to pass an aptitude test. All students who want to test themselves and improve their level of French can take part.
Students may register using this link by the date indicated during the orientation meeting held at the school. The registration will be considered valid only after the balance of the registration fee; instructions to complete the registration will be sent to the student's contact email after registration. Student participation in the simulation is on a first-come, first-served basis. Students who do not complete their registration within the required time frame will be placed on a waiting list.
The costs of participation in NLE are indicated in the information material distributed at the schools. You can request more information by sending an e-mail to info@unitednetwork.it or calling our office. The participation fee includes: participation in the Training Course; participation in NLE; didactic material; certificate of participation and attendance.
Each year United Network provides more than 100,000 euros in scholarships to support lower income people. To apply for a scholarship, sign up for the project and view the Financial Aid award announcement. You can make your final membership conditional on the award of a scholarship.
The Nous les Européens project is conducted in French.